Print 'Nee' uit het boek Eerste Woordjes
Regular price
Sale price
$11.10 USD
Unit price
per
Sale
Sold out
Print met het woord 'nee' uitgelegd, uit het boek Eerste Woordjes.
A4 met blinkende foliedruk. Kies uit 4 varianten: maan, bloem, nee, of krab.

Wij schreven een kinderboek voor grote mensen. Of omgekeerd? Een kartonnen boekje met 26 roos-blauwe bladzijden, 12 Eerste Woorden, goedgemutste tekeningen én een stickervel. 

Het boek staat vol met woorden. Woorden zijn die dingen waarmee we de wereld rondom ons opruimen, zo ordelijk maken dat hij duidelijk wordt. Als ge de woorden snapt, snapt ge de wereld.

Toegegeven: de wereld snappen is nogal ambitieus. Maar als ge het woord voor woord doet, valt het best mee. 

Beloofd.
Auteurs — Annelies Desmet & Jill Mathieu
Vormgeving — Edouard Schneider - Letterlik
Illustraties — Hanne Van Gils - Van Gils & friends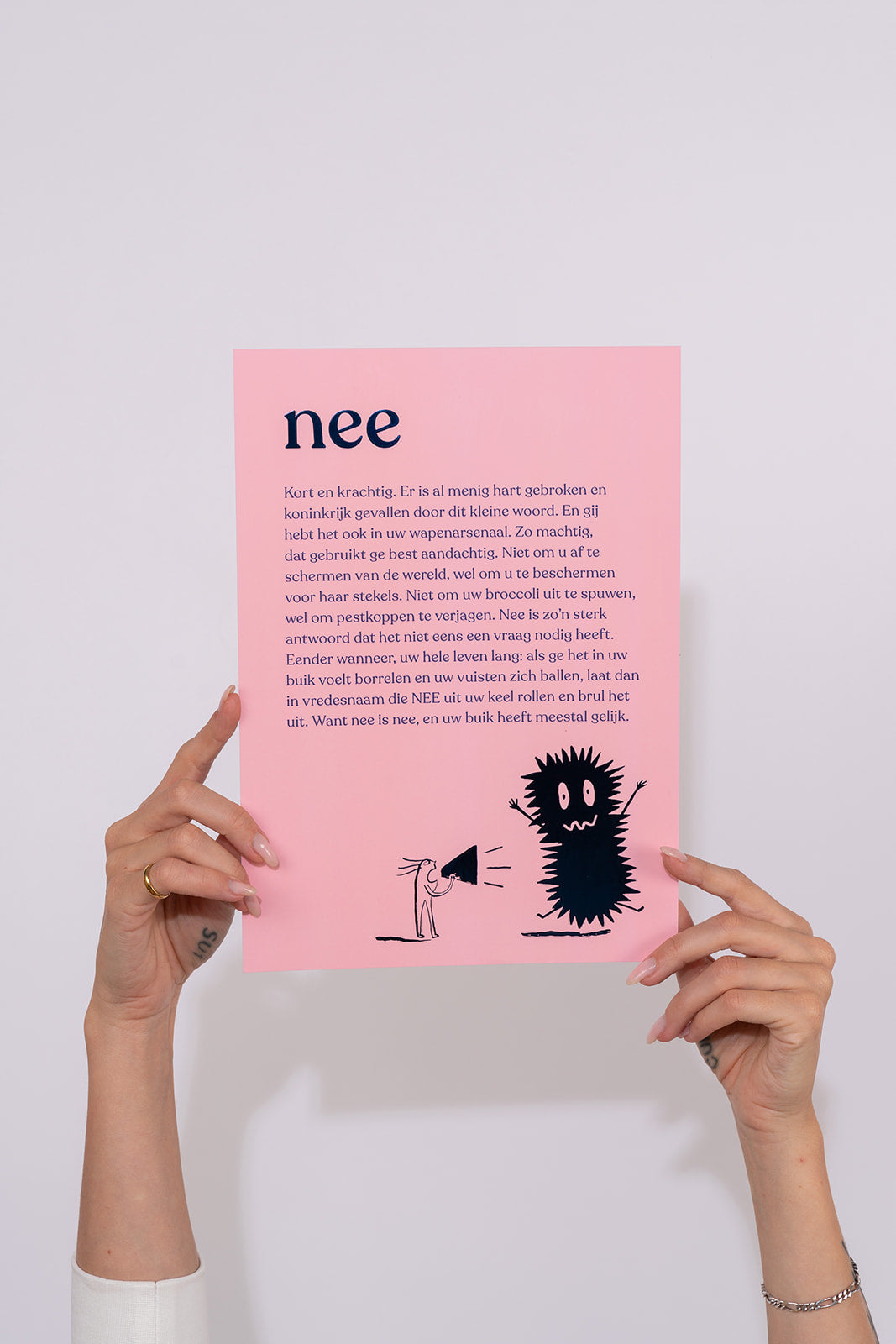 Nog meer Eerste Woordjes
Regular price

Sale price

$11.10 USD

Unit price

per

Regular price

Sale price

$11.10 USD

Unit price

per

Regular price

Sale price

$11.10 USD

Unit price

per

Regular price

Sale price

$11.10 USD

Unit price

per